The Canon EOS 400D (which will be called the Digital Rebel XTi in the US) is the successor to the current EOS 350D (Digital Rebel XT). The Canon EOS Rebel XTi is a 10MP DSLR with a 2.5" LCD screen and a price under $800, making it the lowest price 10MP DSLR available. It will be available in both black and silver finishes as shown below:

The major features of the Canon EOS 400D (Digital Rebel XTi) include:
A 10.1 MP CMOS sensor (3888 x 2592 pixels)
APS-C (1.6x) format, EF-S lens compatibility
2.5" LCD screen
9 point AF system
ISO 100-1600
RGB histogram
30-1/4000s shutter
1/200s sync speed
3fps continuous shooting
buffer for 10 RAW images
ultrasonic dust removal for sensor
high precision focusing with lenses f2.8 and faster
picture style modes
0.2s startup time
Digic II processor
comptaible with BG-E3 grip
LCD turns off when eye is at viewfinder
small, lightweight (plastic) body
USB 2.0 interface
$799 for the body only, $899 with the 18-55 kit lens.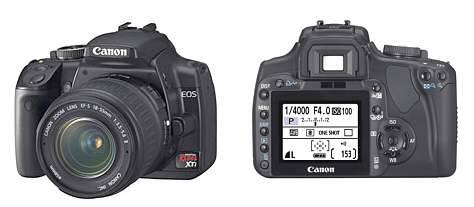 The new Digital Rebel XTi has a single LCD (see above) which can be switched between image, data and menu display. It's a new, larger and brighter LCD which can be viewed over a wider (160 degree) angle than the display on the earlier Digital Rebel XT. In fact the LCD is approximately 40% brighter at its maximum setting than screens found on the top-tier EOS-1D Mark II N, EOS 5D and EOS 30D DSLRs
I've listed the full specification of the Digital Rebel XTi on the Canon EOS 400D (Digital Rebel XTi) Specifications page.
The new canon EOS 400D (Digital Rebel XTi) looks like a pretty good competitor for the recently announced Nikon D80 and Sony Alpha A-100. I have a quick comparison of specification on the Canon EOS 400D vs. Nikon D80 vs. Sony Alpha A100 page. The EOS 400D is the cheapest of the three, being $200 less than the Nikon D80 and $85 less than the Sony Alpha A100.
The Canon EOS 400D (Digital Rebel XTi)is a clear improvement over the 350D (Digital Rebel XT). The sensor has been upgraded to 10.1MP, though users shouldn't really see a dramatic difference in image sharpness. The buffer size has been increased, the LCD size is larger, there are more AF points, an RGB histogram mode has been added as have picture styles. There is now an ultrasonic sensor cleaning mode to remove dust from the sensor. I think the update from the 350D to the 400D is more significant and worthwhile for users than the 20D to 30D update was. Currently (02/07) selling at around $700, it's pretty competitively priced too and it's the lowest priced 10MP DSLR currently available [the Nikon D80 is around $930, the Sony Alpha A100 is around $750 and the Pentax K10D is around $920).
Though there was some initial concern that the smaller pixel size of the XTi might result in higher noise levels than were found in the XT, this seems not to be the case. I have had the chance to take a look at some images shot at various ISO settings and my conclusion is that difference in noise at higher ISOs over the Digital Rebel XT shouldn't be an issue for users. Noise at ISO 800 and ISO 1600 may possibly be a touch higher and noise reduction algorithms may be a little more aggressive, but the differences are very small. It appears that noise levels are lower than those of the Sony Alpha A100, but I've yet to see any images from the new Pentax K10D so I can't yet comment on how the Rebel XTi and K10D compare. Of course both the Sony Alpha A100 and Pentax K10D have image stabilization built into the camera body, so for users who don't need low noise at higher ISO settings, that may be a more important feature.
The new canon EOS 400D (Digital Rebel XTi) remains among the smallest and lightest DSLRs. For users with larger hands the addition of the BG-E3 grip may make the camera easier to handle as well as providing longer shooting times and making the camera easier to handle in portrait orientation.
The Canon Digital Rebel XTi (EOS 400D) is available either as the XTi body only or as a "kit" with a EF-S 18-55/3.5-5.6 lens. The EF-S 18-55/4-5.6 is a decent lens. Not outstanding, but it's not bad and not expensive at under $100 when bought with the camera body. I have a full review of the EF-S 18-55 here. If you don't already have a lens that goes as wide as 18mm (which will give you the same field of view on the XTI as a 29mm lens does on a full frame 35mm camera), then buying the kit isn't a bad deal. It's certainly the least costly way of getting wideangle coverage. If you have plans to buy the Canon EF-S 17-85/3.5-5.6 IS USM or the Canon EF 17-40/4L USM, then of course it makes more sense just to buy the body and lens separately
Digital Rebel XTi (EOS 400D)
Body Only
Digital Rebel XTi (EOS 400D)
with EF-S 18-55/3.5-5.6
The Digital Rebel XTi is also available from ADORAMA:

- Digital Rebel XTi

- Digital Rebel XTi w/18-55 lens
Further Reading
Here's what Canon have to say about the new EOS 400D (Digital Rebel XTi)
10.1 MP CMOS Sensor
Newly developed by Canon, this large CMOS sensor is at the top of its class with 10.1 million effective pixels. A wide ISO speed range and low noise are realized through innovations like redesigned microlenses and enhanced output amp performance. On-chip noise reduction automatically engages when noise is detected ("Auto"), and can be engaged for exposures of 1 sec. or longer ("On"). Also designed for the EOS 400D DIGITAL are new automatic cleaning functions that reduce dust throughout the sensor unit to assure image clarity
Digic II Imaging Engine
DIGIC II, Canon's exclusive imaging technology, processes large amounts of data from the APS-C size CMOS sensor at high speed to deliver images of exceptional definition and smooth gradations. Color reproduction is quite natural, false colors are reduced, and white balance is highly precise. This refined imaging system contributes to user-friendly operation in any lighting situation while keeping power consumption minimal.
2.5" LCD
Offering improved viewing and operability, the EOS Digital Rebel XTi (EOS 400D) has a 2.5-inch TFT LCD color monitor with approximately 230,000 pixels to accommodate large fonts in menus and a remarkable viewing angle of 160?. Picture quality and brightness are therefore equally maintained from almost any viewing angle — front and center or upward angle. Brightness is now yours to command in seven levels, with the highest even surpassing that of professional models. Such variable display enables easy image verification in bright outdoor settings as well as low-lit interiors, right after shooting.
User Interface
New display button ("DISP."), power lamp, Display Off Sensor, and improved information display make the EOS Digital Rebel XTi (EOS 400D) more user-friendly. Replacing the previous information button, the display button verifies camera setting and shooting data. A new ON/OFF function for the button enhances operation ease while saving energy. Another energy-saving feature is the power lamp, which in a glance reveals the startup state, even when the LCD monitor is off. And if monitor glare is annoying when looking through the viewfinder, you're sure to appreciate the Display Off Sensor. Located under the eyepiece, it detects the approach of your face and turns off the LCD.

From the new mode name/icon display and battery power display format to a new camera setting screen GUI, EOS Digital Rebel XTi (EOS 400D) functionality has had a comprehensive makeover to ensure every user, from amateur to professional level, can shoot with ease and maximum comfort.
9 point AF
For smooth operation and flexibility needed for creative expression, the EOS 400D DIGITAL has a 9-point AF sensor that enables fast and high-precision focus detection plus enlarged subject coverage. Convenient cross keys provide fast and easy AF point selection. For more accurate shooting and additional flexibility, focusing points are in a diamond-shaped layout with a central AF point offering cross-type focusing, regardless of lens brightness. In addition, higher precision focusing is possible when using lenses brighter than f/2.8. Such variable focusing enables quick adjustment for a variety of compositions and shooting situations.
Continuous Shooting
The EOS Digital Rebel XTi (EOS 400D) starts up and gets ready to shoot in just 0.2 seconds to capture photo opportunities when they arise. Accelerated image processing of DIGIC II and high-speed data reading from the CMOS sensor enable fast continuous shooting at 3 fps for a maximum of 27 shots, even in JPEG Large/Fine (10 shots in RAW). With such responsiveness and speed, the EOS Digital Rebel XTi (EOS 400D) is ready when you are, to seize the moment to take the perfect shot.
EOS Integrated Cleaning System
To assure fine photo results, Canon employs dust-resistant materials and structures to dramatically reduce dust generation within the EOS Digital Rebel XTi (EOS 400D). Measures also are taken to prevent dust from adhering to the sensor due to static electricity. A remarkable new function is the Self Cleaning Sensor Unit that actually vibrates the low-pass filter to remove dust particles from it. Additionally, by targeting image data for leftover dust after cleaning, the Dust Delete Function within the bundled software can be used after shooting to remove dust spots that may remain on the captured image. For photos that are consistently distinct and clear, this dust reduction system is essential.
Self Cleaning Sensor Unit
Unwanted shadows on photos can be caused by dust that isn't actually on the sensor but on the low-pass filter (LPF) in front of it. Though cleaning can be manually selected by menu, automatic cleaning by ultrasonic vibration of the LPF is activated for about one second when the power is turned on or off. As shooting priority occurs on start-up, pressing the shutter button disables the self-cleaning operation and returns the camera to shooting mode. Dust falling off the filter during cleaning adheres to the sticky material of the retaining component at the LPF base.
Picture Styles
A selection of six style settings matched to the subject or desired shooting objective is simple as choosing film for a film camera. Press the SET button while in Creative Zone modes and a Picture Style selection screen offers six presets (Standard, Portrait, Landscape, Neutral, Faithful, Monochrome) plus three user-defined styles. Image characteristics ranging from beautiful skin tones to sepia allow you to adapt easily to shooting conditions and focus on your photographic aims.

Also assuring smooth creative control are "Picture Style files" for function expansion. Downloaded from Canon's website and registered in the EOS Digital Rebel XTi (EOS 400D) via bundled software, files like "Nostalgia," "Clear," "Twilight," "Emerald," and "Autumn Hues" offer image characteristics for optimal results from rare shooting conditions.
Direct Printing and Data Transfer
Save time and energy with the EOS Digital Rebel XTi (EOS 400D) by simple connection to any Canon PictBridge-compatible printer via USB 2.0 High-Speed. Dual functionality in the Print/Share button enables direct printing and direct data transfer. For direct printing, just select the image from the playback screen, verify print settings, and press the handy button. Enhanced PictBridge functionality offers other direct print advantages like red-eye reduction and face brightening. A new PictBridge function lets you unplug the USB cable during printing once data transfer is complete. Which means you can use your camera sooner rather than later, before printing has finished.* For direct data transfer, connect the EOS Digital Rebel XTi (EOS 400D) to a PC with EOS DIGITAL Solution Disk software, choose transfer items from the menu, and press the Print/Share button to download the images you like, even for desktop wallpaper.
Software and Accesories
The EOS Digital Rebel XTi (EOS 400D) comes bundled with the EOS DIGITAL Solution disk and applications like Digital Photo Professional (DPP) with Dust Delete Function and Zoom/Image Browser — all designed to work seamlessly for optimizing captured images and streamlining your digital workflow. DPP 2.2 for EOS Digital Rebel XTi (EOS 400D) offers new advantages. The software now uses dust delete data of an image to locate specified dust spots and automatically erase them for crisp and clean photos. RGB Tone Curve Assist Function has an enhanced high mode. Last but not least, noise reduction settings are expanded to include JPEG images as well as RAW. These are among Canon's solutions for finished photos that satisfy your aim.

EOS Digital Rebel XTi (EOS 400D) also lets you make the most of advanced Canon technology and its compatibility with over 50 EF lenses that pair up with Speedlites for faithful image capture in a variety of shooting conditions. Battery Grip BG-E3 and other accessories make the EOS Digital Rebel XTi (EOS 400D) comfortable and portable. In more ways than one, the EOS Digital Rebel XTi (EOS 400D) gives you the power and ease to take you to the next level and help realize your photographic potential.